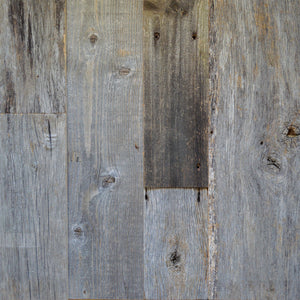 Our take on reclaimed barn wood paneling is broad and dynamic in scope. We incorporate wood that is salvaged not just from barns but also from agricultural fencing and other structures that have endured the elements. Weathered Grey is sorted for a mix of tones from silver to charcoal, selected from the boards that spent their previous life standing up to the elements and oxidizing to the perfect blend of greys. 
Note: Often the appeal of owning wood is the varied nature of this organic material. We provide samples as a general representation of our products and we often send multiple pieces in an effort to present a more comprehensive range of color, grain, texture, and character.  These samples should be viewed together as a range.  Because these hand-crafted materials can vary beyond what is shown in our samples though, it is important to also reference the installation photos and specification sheets on our website.  Please note that Individual sample pieces by themselves may not fully represent a product.

If you're looking for something custom, simply give us a call.
Ask a question about this product