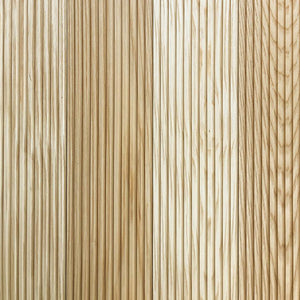 Pioneer Millworks Raked® paneling adds dimensional texture to interior walls, wraps, ceilings, and fixtures. This applied texture is milled into the surface of the wood and repeats in 1/4" grooves. All of our Raked™ paneling options are Engineered with a FSC-Certified Baltic Birch 12mm (9 ply), CARB2 and TOSCA compliant using glue that is Formaldehyde-free, low-VOC.

Planks are milled with an end-matched T&G to provide quick and easy installation. Chat with our sales team about adding color to the top for a vibrant look or installation ideas for turns, angles, and additional patterns.

**Note this product is an interior paneling product and you will receive whichever species we have ready to go. If you are in need of Raked® Wide in a specific species, please call our sales team directly.**
Because wood can vary from board to board, most samples include 2-3 pieces to help you get a better understanding of the overall look. (So when you order 1, you will receive up to 3 pieces.) While these boards are just a sampling, they should be looked at as a whole. If you're looking for something custom, simply give us a call.
Ask a question about this product