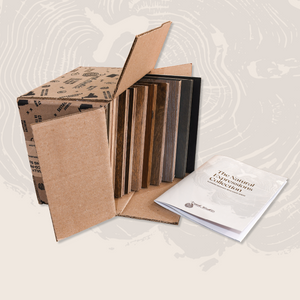 This is a full sample box of all 12 finish colors, made for design & builder libraries.
Made with our sustainably harvested FSC® Certified Casual White Oak, the Natural Expressions Collection utilizes an 8" wide plank format and an all-natural UV Cured Hard-Wax oil finish, giving any space an organic flow by allowing each board to express a variety of wood grain patterns. Developed in collaboration with celebrated interior designer David Senise, this collection combines elements inspired by nature to bring thoughtful sophistication & grounded aesthetics from the natural world into commercial & residential spaces.
PLEASE NOTE: Due to the cost of these sets, full sample boxes will be pre-qualified by our sales team before they are sent -- allow extra time for shipping. We are sampling one piece of this material at 5" wide. This is to give you a sense of the finish color and texture. When you're ready for submittal samples, simply give us a call and we'll send multiple pieces at 8" wide.

Ask a question about this product